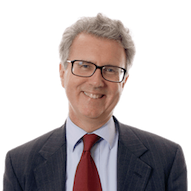 Professor Christopher McCrudden
Professor Christopher McCrudden will be giving the annual Richard O'Sullivan Memorial Lecture this Thursday 26 May 2022, 6pm at Notre Dame University near Trafalgar Square, London on: "What does human dignity mean and why should we care?"
International human rights purport to be based on the principle of 'human dignity', and references to it are now commonplace in political discourse and judicial opinions throughout the United Kingdom, Europe, the Commonwealth, North and South America, and the Global South.
For such an omnipresent and core idea, 'human dignity' has become more, not less, controversial since its inclusion in the Universal Declaration on Human Rights in 1948.
What does 'human dignity' mean? What hangs on the different meanings that have been attributed to it? And why is it so controversial, both from the Left and the Right, from religious adherents and proponents of secularism? Based on recent examples, the lecture explores what these debates say about the contested understanding of human rights, and indeed what it means to be human, in our current political and legal systems.
Christopher McCrudden has been professor of human rights and equality law at the School of Law, Queen's University Belfast since 2011, when he returned to Queen's, and holds the visiting position of L Bates Lea Global Law Professor at the University of Michigan Law School. He was formerly Professor of Human Rights Law at Oxford University (the first), and a Fellow of Lincoln College, Oxford. Specializing in human rights, he concentrates on issues of equality and discrimination, the relationship between international, European, and comparative human rights law, and most recently the effect of the UK's withdrawal from the EU on the law and politics of Northern Ireland.
This free lecture is only in person. Refreshments will be provided for attendees.
Register to attend here: www.eventbrite.co.uk/e/christopher-mccrudden-what-does-human-dignity-mean-and-why-should-we-care-tickets-315287753157